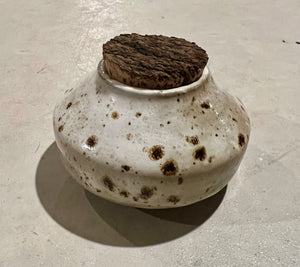 This lung supportive blend is helpful in these times.  Purifying blend of White Sage & Mugwort infusion.  Along with Silver Fir, Ravensara, Tulsi, Pine & Eucalyptus.  Silver Raven salve helps to expand your lungs as it increases your prana, energy flow, and centers your mind, taking you into a deeply meditative state. Smooth on body and lungs when needed or when feeling under the weather. Rub on your warrior lymph if you feel some virus or infection roiling in.  Also can be used to increase circulation and purify blood.  
White Sage & Mugwort infused in Olive Oil, Shea Butter, Cocoa Butter, Coconut Oil, Beeswax, and Essentials Oils of Silver Fir, Ravensara, Pine, Tulsi & Eucalyptus Organic.


Ceramic jar with raw cork top.  White, brown silver colors. 5 oz.